ITECH recently announced that it will launch the new product M series with disruptive technology in 2019, and will release the first product of M series - IT-M3100 series ultra-compact wide-range DC power supply in May. It is known that ITECH's new M series not only has a new look, but also makes innovations in product technology. From the perspective of industry application, it provides users with more complete and innovative solutions. M series includes DC power supply, bipolar power supply, AC power supply, regenerative electronic load, power system and many other products, which give users a wide range of choices to meet the diverse testing demands.



The first launch of IT-M3100 series ultra-compact wide range dc power supply break through the traditional shackles, only ½1U in the ultra-compact size, not only can output high power, but also has high performance and multi-function at the same time. IT-M3100 series consists of 12 models, providing 6 voltages, and can be combined to achieve a variety of output power. The flexible modular architecture enables multiple stacks by cleverly designing "leg" plugs, and with the rack mount kit for perfect use. This series helps engineers create and implement test technology advancements more quickly, more accurately.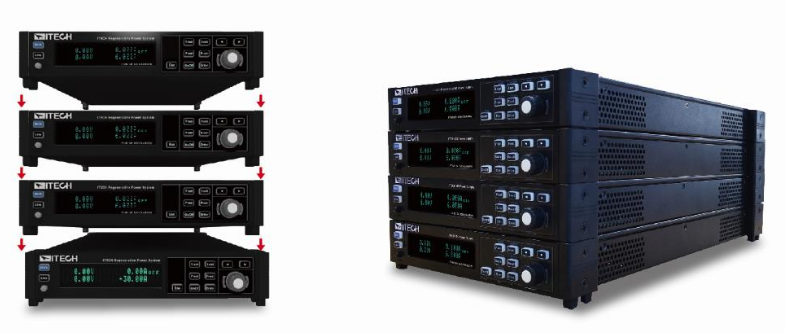 Many electronic products like DC-DC converters, charging parts for battery aging tests, LEDs and circuit boards that require DC power supply need to use multi-channel power supply when doing multi-channel aging test, so as to ensure the synchronization of multi-channel power supply and consistency of output.
Adopting traditional multiple power supplies to configure multi-channel design physically may cause inconsistency of control, and when multiple power supplies are controlled, multiple commands need to be sent to control each power supply, which not only can not improve efficiency, but also fails to guarantee the test results. However, IT-M3100 series has flexible modular design with up to 16*16 independent multi-channels, and users can configure each channel according to the test requirements of DUT. At the same time, users can also set three synchronization modes such as On/Off, Track, Duplicate, multiple power supplies can be controlled by only one command. IT-M3100 is fully satisfied customization requirements and with broad engineering practical value, suitable for various applications in fields such as R&D, design verification and Automatic test system and other applications.

IT-M series is a great breakthrough in the history of ITECH products, raising the wave of "Disruptive Technology". IT-M3100 will trigger the change and bring more user-friendly experience to engineers.