Electronics for You Expo 2019 once again aims to bring the entire electronics industry under one roof from 26-28 Feb, 2019 at Bengaluru. ITECH, as the global leading test and measurement instrument manufacturer, will attend this show for the first look.
EFY Expo is the only electronics industry event that covers the entire eco-system of the electronics industry as it focuses on the electronics value chain, ITECH will show you unprecedented products and comprehensive solutions, such as newest power supplies, electronic loads. Welcome to stand by our booth: I-40!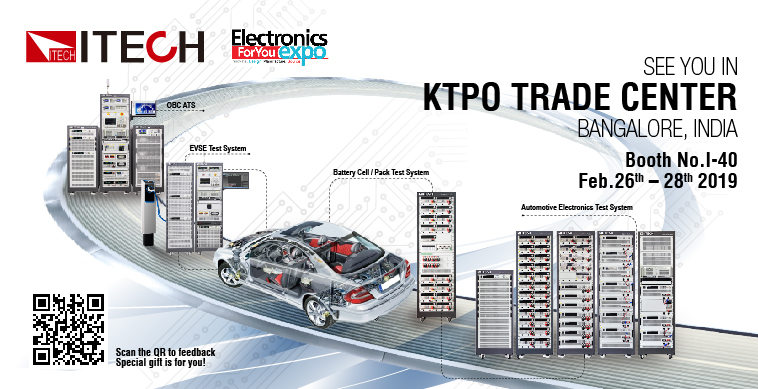 ITECH will show IT8615/IT8700/IT8800 series DC electronic load, IT6400/IT6300/ IT6700H/IT6900 series DC power supply, automotive electronics, new energy and IoT test solution, etc. You can also touch the latest products IT6000 series launched by the end of last year: IT6000B Regenerative Power System, IT6000D High Power DC power supply, IT6000C Bi-directional DC power supply.
Also, we will launch another explosive new product IT-M3600, IT8000 series regenerative DC electronic load, IT-M3100 high density wide range DC power supply. IT-M3600 series Regenerative Power System is only 1/2 1U high and of independent multi-channel design structure of maximum up to 16*16 channels. Up to 16 channels in each group support paralleling or synchronization to meet the requirements for higher current and higher power.
Welcome to stop by ITECH booth # I-40, and we will keep updating of the latest news.
For more information, please visit ITECH website